Yes, since I have been SO amazingly awesome at posting recently, (I really can't wait for the sarcasm font to happen), I have decided to throw my hat into the ring again and ATTEMPT the annual November feat: National Blog Posting Month.
Yep. You heard it here. I, Natalie, will attempt, among my other daily feats, to post here every single day for the month of November.
I promise nothing.
But, in years past it has been a pretty good motivator. I'm nothing if not harshly competitive (with myself).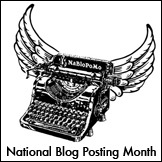 I even got a little badge do-hickey to show how incredibly serious I am, ya'll.
Plus, since I am finished with sewing Halloween costumes and whatnots, I should have more time. That's the plan, anyway.
If you yourself are interested in participating, head on over to NaBloPoMo, sign up, and get started.
Also, if you want to see how well I did in years past, check out: November 2007, November 2008, and November 2009
Um, I think I've only successfully completed the whole month once (woohoo 2008!). I don't know what the heck happened last year, but there were only 17 posts–so provided I can beat that, I'll feel accomplished. No. Scratch that. I WANT to post the whole month. I NEED to post the whole month. This writing thing has been back-burner for far too long.
We'll see.