We threw Olivia a Star Wars themed birthday party.
And it was awesome.
Bill and I were able to construct a passable R2D2 cake which Olivia LOVED. I made a few mistakes in the construction of the droid, things that I hope I can correct next time around. Always cut the shape the cake AFTER you layer and construct it. Never cut the layers before. I was terrified it was going to collapse and went to bed on Thursday night telling Bill that I may have to re-bake the entire cake. Luckily, buttercream is very much like Spackle and one evening in the refrigerator helped cement the cake and we had no catastrophes.
The cake was not the prettiest, but it was probably the absolute BEST chocolate cake I have ever made myself (maybe even the best I've ever tasted!) I used the Extreme Chocolate Cake recipe I found on AllRecipes.com (it had awesome reviews). I used the chocolate buttercream in the recipe for the middle layers, and used a basic vanilla buttercream for the outside. I made a homemade marshmallow fondant recipe one of my friends gave me (Thanks Lani!) . I don't know the normal procedure, because we are fondant novices, but we painted each individual piece with gel food coloring diluted with water and used an actual marshmallow with a little black food coloring on the top for camera (which was VERY important to Olivia). I was terrified of putting the candle on top (I was still afraid it was going to collapse!) so I used a little fondant to stick the candle on the side (worked like a charm!).
It was delicious. Sinfully so.
I thought I would give you another picture, just because.

I made the same Ben & Jerry's ice cream I have made for birthdays past; but this time it was "Yoda" colored.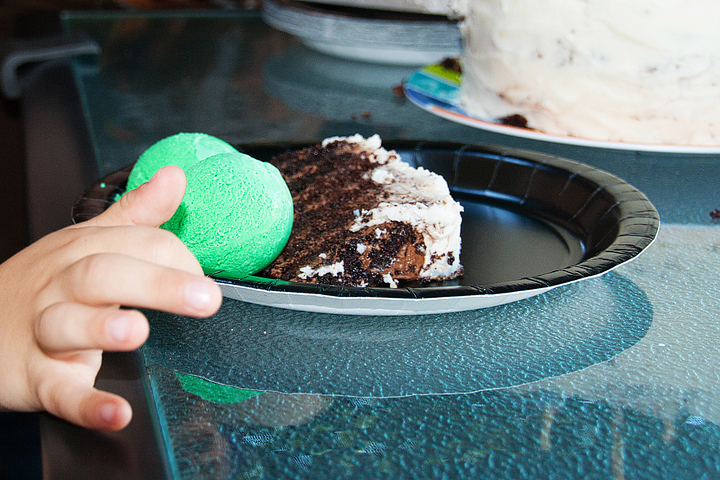 This is what I gave Olivia, originally, but she said she wanted the "top" of the Droid.
Of course, I gave it to her:
Oh don't worry, she didn't eat it all. She actually only picked some of the fondant off and the marshmallow.
I also served the same "DazzleBerry Lemonade" I served at Sophia's party, PB&J/PB&Marshmallow Fluff "Sushi", Cheese Quesadillas, little smokies in a blanket, chips, dip, soda and juice boxes. An Olivia-approved menu, and she loved it!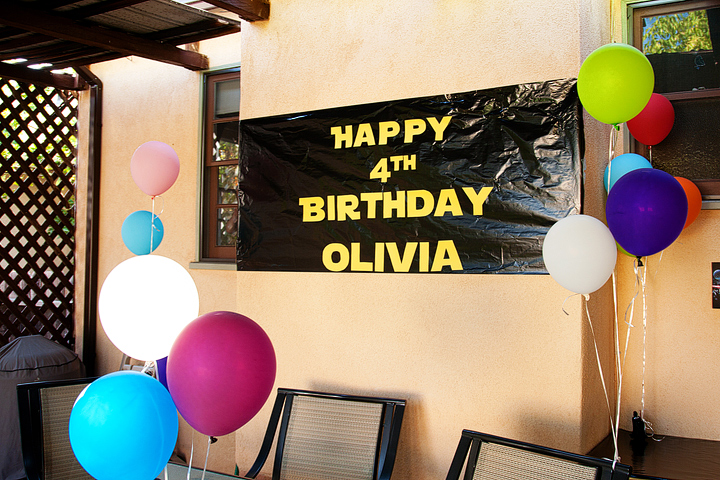 This is the awesome banner I made that was wrinkle-free BEFORE I tried to put it on the wall. Oh well, the wrinkles give it character, right?
Balloons make us happy!
Very happy.
Funny story about the pinata. We ordered a Darth Vader pinata from a small florist, but Bill said he didn't think they knew WHAT they wanted to be, as it was filled to the brim with pinatas, flowers, and various other random things (hats, shoes, etc. etc). What we THINK happened is that they retro-fitted a Batman Pinata and renamed him "Darth Vader". When we got him he had on gray underwear and the top part of his chest was gray. His eyes were white, so we took a can of spray paint to him and he looked much better. I also printed out a sticker of Vader's chest plate, as the one they tried to put on him was just random red and white rectangles that vaguely resembled the real thing. But, for $16 bucks we didn't expect an exact replica. It was life sized!
I re-purposed the pinata stick we've had since the Sad, sordid tale of Elmo the Pinata to look like a light saber. Only took some green duct tape and a little black electrical tape.
Olivia had a fantastic birthday, and is a VERY lucky girl: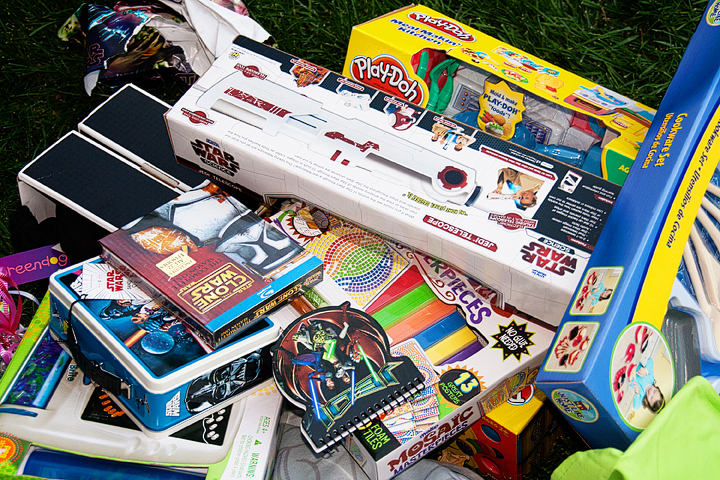 Is it any wonder it took her almost two weeks to get all of her thank-you cards completed?
Thank you to everyone who helped, came or sent us happy birthday wishes! Can't wait to see what Sophia chooses as her theme next year. I think I'm up for the challenge.