Hi. I'm Natalie. I buy gourds and other vegetables that we do not normally eat, anytime they are on sale.
The first step is admitting you have a problem, right?
I did it with the Zucchini (which, by the way, I still haven't been able to try Suzanne's recipe, as Zucchini is now pricer than everything else in the grocery store) and last week I did it with butternut squash (3 pounds for $1!).
Don't get me wrong, we have eaten butternut squash in the past. I used to make the best Butternut Squash Risotto when Olivia was a baby, and she LOVED it. Both girls loved eating it when they were in the pureed food stage, but I hadn't bought any in awhile. When I mentioned I was thinking of making the risotto, Bill said "Yeah, that's not my favorite application of Butternut Squash." He's seriously killing me with all of his "revelations" of not really liking recipes when I mention making them again–but, at least he is honest, I guess. So I started racking my brain for things I could do with this butternut squash, because, cheap or not, I'm USING the damn gourds.
We thought it might be kind of cool to try muffins, as pumpkin muffins are our favorite, and a gourd is a gourd, right?
I searched and ran across this recipe for Butternut Squash Bread and decided to re-purpose it for mini-muffins and change it around to make it slightly healthier.

Butternut Squash Bread
Ingredients:
1 cup butternut squash puree (halve & roast a squash in a 375 degree oven for 1 hour or until softened. Remove skin & puree)
2 eggs
1/2 cup applesauce
1/4 cup water
1/2 cup sugar
1 cup brown sugar
1 3/4 cups bread flour
1 tsp baking soda
1/2 tsp kosher salt
2 tsp ground cinnamon
1/2 tsp ground nutmeg
1 tbs vanilla
2 tbs wheat germ (it was all I had left, you could use more if you wanted)
1/2 cup flaxseed meal
Directions:
Preheat oven to 350 degrees F (175 degrees C). Pick your pan (I used mini muffin pans) and grease and flour or spray down with cooking spray.
In a large bowl, mix together the puree, eggs, applesauce, water, sugars and vanilla until thoroughly combined. In a separate bowl, whisk together the flour, baking soda, salt, cinnamon, nutmeg, wheat germ and flaxseed meal.
Stir the dry ingredients into the butternut squash mixture. Combine just until incorporated: do not over mix. Pour into the prepared pan.
Bake at 350 degrees for 15-20 minutes (if using mini muffin pan) or 55-65 if using a loaf pan.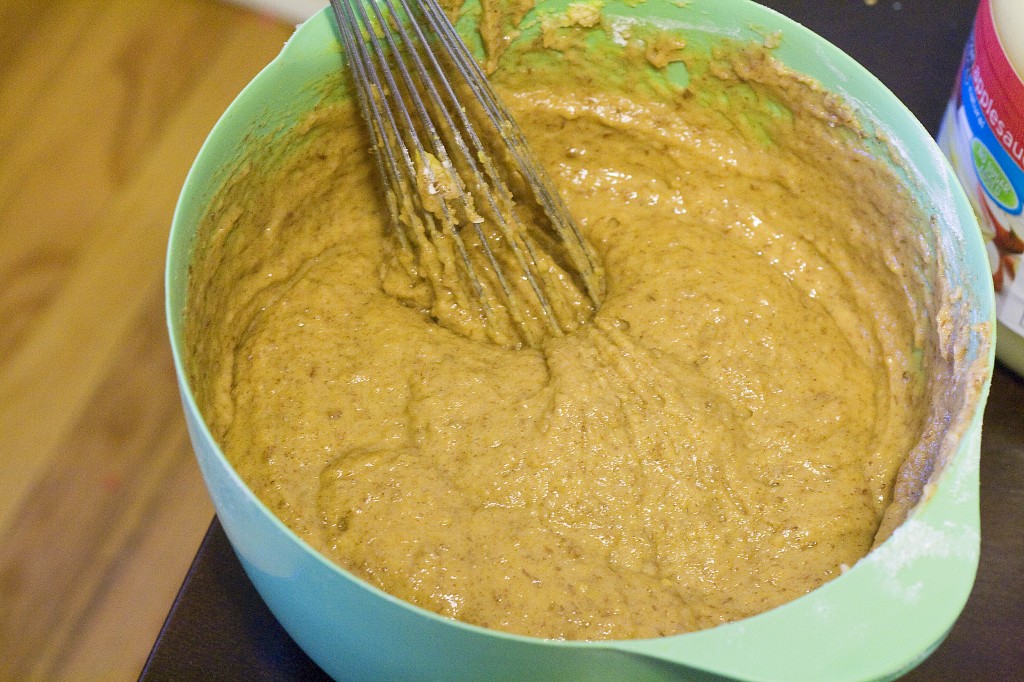 This is what your batter will look like. It will be thick. Very thick.
They make perfect little mini muffins!
Even better with a dollop of cream cheese!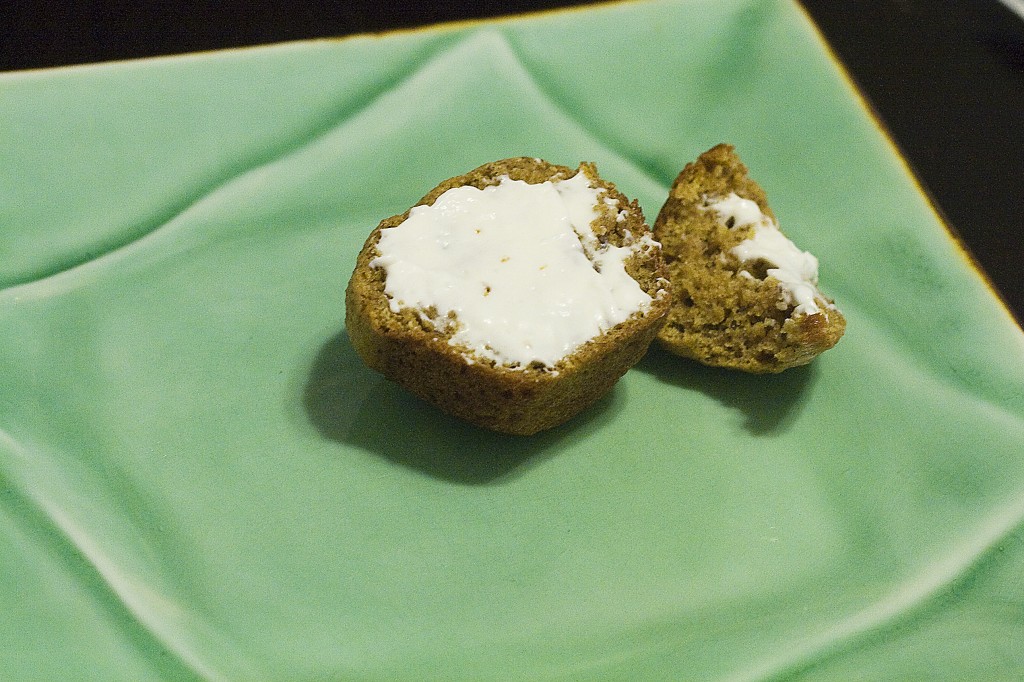 I can't say that this is my favorite mini muffin recipe, but it may be because of my changes. I'm going to make the original recipe in the future and report back. Bill said they were a little too chewy for his liking. That may be because of the addition of the flaxseed meal OR changing out the vegetable oil for applesauce. The flavor was really good–the cinnamon was very noticeable (perhaps slightly too much?), but very reminiscent of my pumpkin bread (which, yum). I think I should have just baked it in a loaf pan as bread instead of mini muffins.
The girls love them and think they are yummy, so this recipe is a win in my book.
Edited to add: These are very good the next day, similar to my pumpkin bread, the bread is much more moist than it was yesterday.