Yesterday we were given a very awesome, VIP tour of a major animation studio that happens to be housed in our city. One of the moms on our parent committee used to work there and her husband still does, so she arranged for the committee members (and our kids) to go on a tour. It was a big deal because they don't do tours unless by special request.
I decided Sophia didn't need to join us, so we were able to leave her at the school's daycare drop-in program. Which is an such a great option if you can plan ahead, as it is technically not a "drop-in", you have to reserve a spot a few days in advance. I'm so glad we did, because Sophia was thrilled to go to the nursery ("Da NURSWEE!" she yelled when she got there) and it gave me time alone with Olivia, which I know is important.
Since I had to sign a non-disclosure form, I feel like I am not able to say WHICH animation studio we visited nor will I discuss some of the amazingly awesome things I saw, but if we are friends on Facebook* you already know.
I did want to share a few of the photos I was allowed to take, as it was a very awesome tour and the kids had a wonderful time. I don't know who wouldn't want to work there–it was just…fun.
So, enjoy!
Every cabinet wall is a whiteboard, so people can doodle on the walls (why didn't I think of that?). The tour guide gave the kids dry erase markers and told them to leave their mark. This is what Olivia came up with.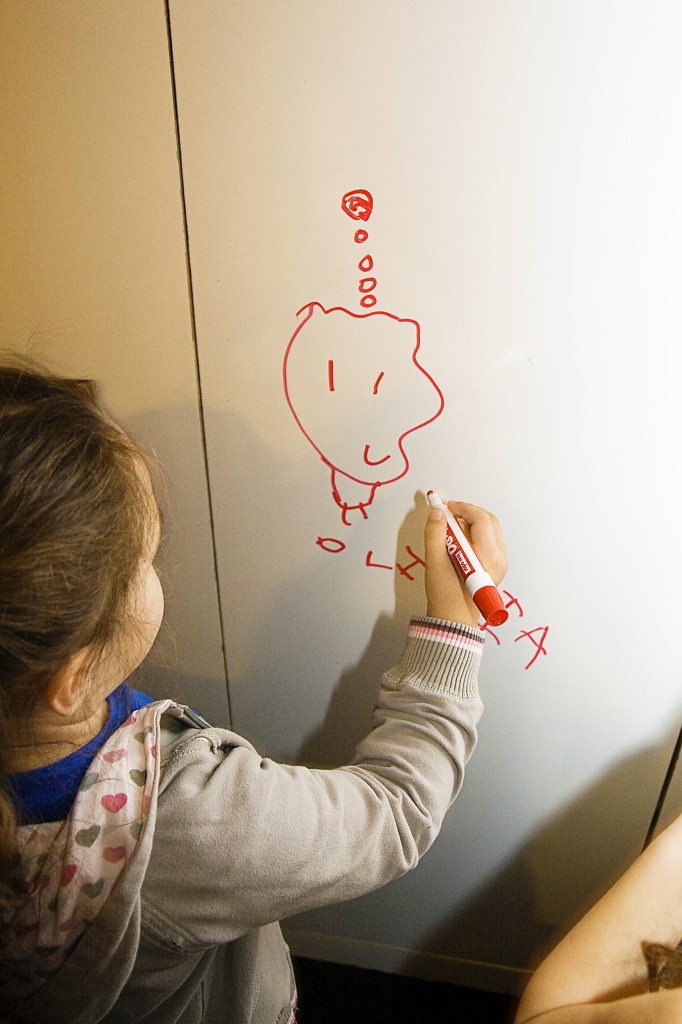 She said it was a person thinking.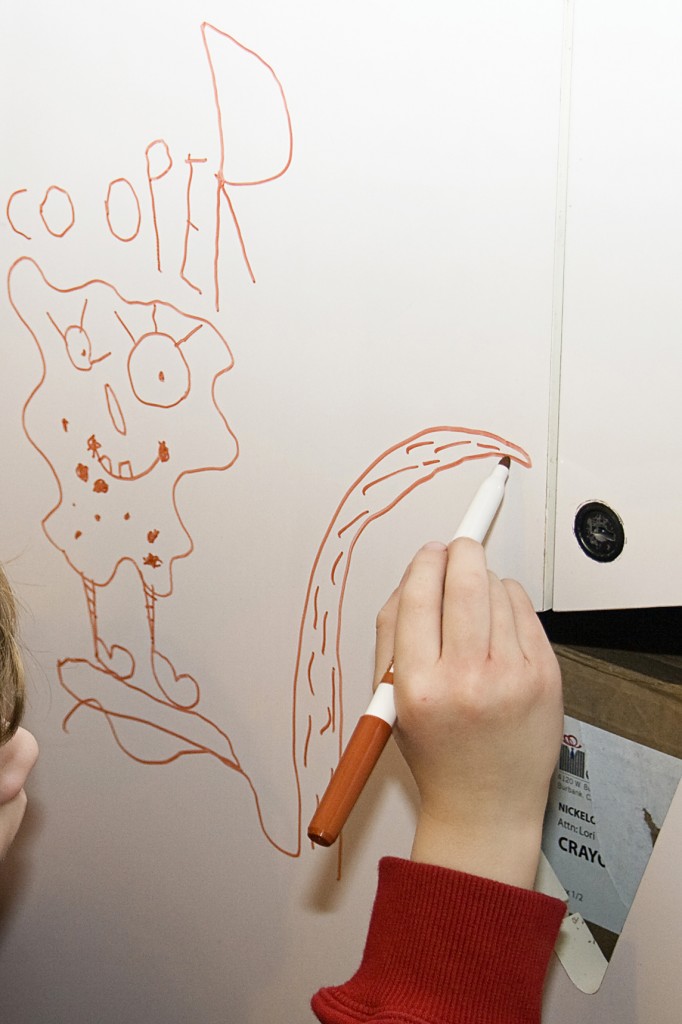 Guess who's dad is works at the animation studio? I'm jealous of his mad drawing skillz. At 5.
*We can totally be Facebook friends (email me at natalie (at) porterlabs (dot) com). Also follow me on twitter (natablog). I promise I follow back (just say hi so I know you're there!). I love sharing my pictures (and the girls' faces). I just like sharing them in a controlled way. I'm obsessive like that. PLUS, now that Amy at BabyBabyLemon said she liked my blog because she "loves (my) creative photography because (I) never show (my) girls' face", I'm thinking she may have given me a challenge, even if she didn't mean to. ;o)