Yesterday I decided to finally get my butt into gear and help the girls make Christmas tree ornaments. My original plan was to have Olivia make two for her teachers and a card. We had already given money towards the class gift, but thought it would be nice to give them something homemade by Olivia. I then wanted us to make a few more ornaments to give to friends and family as little tokens along with cookies we are planning on baking this Sunday.
Any dreams of owning an ornament factory using child labor have been dashed.
Sophia was done after one snowman ornament. "I'm gonna go play in my room now!" When I asked her who she wanted to give the ornament to, she said "put it on the tree!" and seemed appalled at the mere suggestion that we might give it away. Since it was the first ornament Sophia had ever made, I kind of liked the idea that it will stay in our family, on our tree.
Olivia did much better, but after making her own snowman, (which, of course she didn't want to give away either) she was done with snowmen and wanted to make snowflakes. Which, was more work for me (since she's not as handy with the scissors yet). But she had a blast making cards and covering everything in glitter. All in all it was a lot of fun, and SUPER cheap. Like, stupid cheap. All you need is felt, glue and glitter.
Top Center: This was all the leftover bits and bobs I had laying around. I only bought white, orange and brown felt (which cost me a total of $1) the rest was left over from Halloweens past. Oh, and I bought glitter, for a couple of bucks, but have a ton left over for our next craft. Left: Attach your three different sized circles (however big you want your snowman to be; I used little cups we had around the house as guides) I used a hot glue gun, because I don't think the tacky glue holds as well, but maybe I just need to buy better craft glue. Bottom Center: Have your handy 4-year old assistant squeeze glue all over the snowman. Right: Watch how big your 4-year old assistant's eyes get when you tell them to "paint" the glue ALL OVER the front of the snowman.
Left: After your assistant spreads the glue (and complains that her fingers are messy) you will pray as you give them a little shaker of white glitter. Top Center: Continue praying, because you saw how excited they got as they grabbed the glitter from your hands, and wince as they pour about half the shaker on top of the snowman. Bottom Center: After you have shaken the excess glitter off of the snowman (which, if you are super enterprising, you can keep to the side for other glitter projects), you can begin the construction of the face. I've found that the tacky glue works best for this, but Elmer's (or any other school glue) seems to be okay if you let it dry and are able to keep little toddler/preschool fingers from messing with it. Right: After you have finished, (don't forget his little arms and hat–and apparently in our house, he needs a pirate patch), you can attach a ribbon, piece of yarn or anything else that will allow you to hang him on the tree. Easy Peasy.
Time for card-making!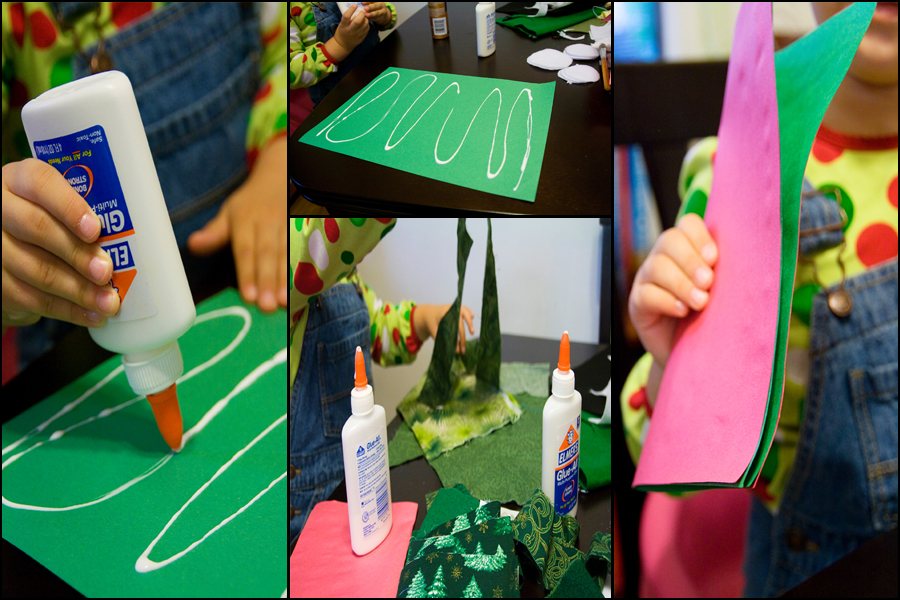 Left, Top Center & Right: Now, if you are smart, you will buy extra-thick construction paper. But if you are like me, you will use what you had on hand, which was cheap construction paper since my kids seem to go through it faster than recovering addicts go through coffee. So, you can (sort of) remedy this by attaching two sheets of paper together to give you a sturdier card. Bottom Center: If you have a quilter in your life (Bill's grandmother is a very talented one), ask them for all of their scrap material and you can score lots of awesome pieces of fabric to use for the cards (among other things). We made a tree card, so I had Olivia choose three different types of green fabric.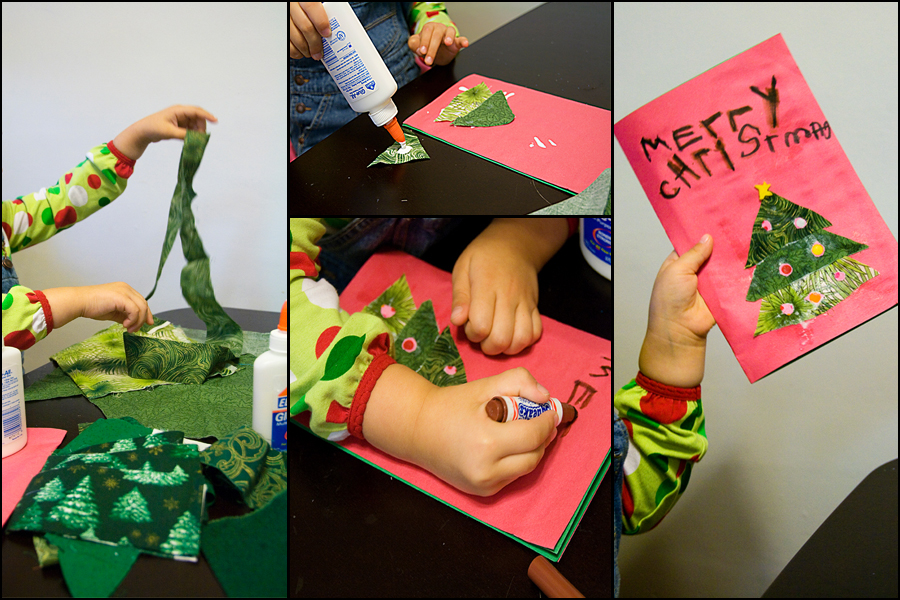 Left, & Top Center: After your fabric is chosen, cut a different sized triangle out of each piece. Then have your handy 4-year old assistant cover the back of each triangle in glue, and (you may want to help the assistant) place each triangle on the card, to make a tree-shape. You can use a piece of yellow felt to make a tiny star (or you can yellow fabric, or even draw a yellow star on top) then decorate your tree with other bits of fabric. Bottom Center: Your handy assistant (or you, if your handy assistant is not at the writing stage yet), can write a holiday message on the front of the card. Right: Now you have an awesome card to give someone!
We also made a card with a snowman on the front, but the method was the same as the ornament, except we just glued it to the front of the card, and didn't add ribbon. We did, however, cover the front of the card with glue from a glue stick and Olivia used the excess glitter from her previous projects to sprinkle "snow" on the card.
Fun, cheap and easy–just the way we like it around here.