So I shook things up a little bit and used some storyboards. Gonna see how I like them.
Sunday: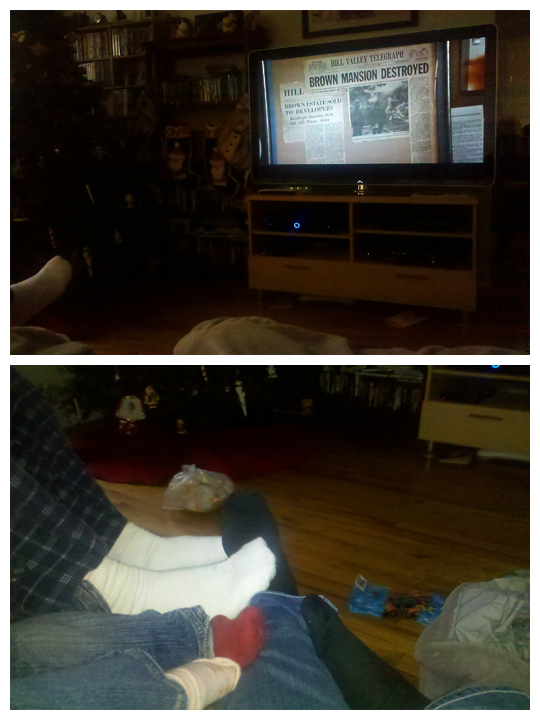 We decided to attempt to take the girls Back to the Future on late Sunday afternoon since it was kind of yucky out. We went ahead and ponied up for the new 25th Anniversary Edition. It did not disappoint, and while we lost Sophia 30 minutes into it, Olivia sat through the whole thing and seemed to enjoy herself. Made Bill super-proud.
Monday:
We went to visit Santa and then came back home where the girls promptly got into their PJs (Buzz and Woody ya'll) and plopped down in their "book nook" (just the little corner of our tiny hallway) and read books while I made dinner. The hat was one Bill's grandpa gave us awhile back, and Sophia loves to wear it.
Tuesday:
We went to the Library, where Olivia decided she wanted "to learn all about Chanukah" so she chose that book and sat down in the library to look it over. The bottom picture is our library haul. Olivia ONLY wanted (other than the Chanukah book) "Star Wars Books" and was so cute asking the librarians where she could find them. They first took us to a shelf of big coffee table books that were mainly picture dictionaries. Since Olivia has all of those in a HUGE book she got for her birthday, we went back to ask if they had the DK Readers, and the librarian said "oh, are they just too difficult?" When I told her that no, it was because she already had them, she looked at me like I was crazy, until I explained that Olivia could, in fact, read. Then they were incredibly helpful.
Wednesday:
After I picked Olivia up from preschool, we went to the park to meet one of Olivia's new friends and her mom for a picnic. The top photo was our view as we ate our lunch. Later in the afternoon I caught Steve from Blue's Clues on my TV not being Steve, but in a rock band playing kids songs. It was just weird seeing him all normal and grown-up looking. Even if he did have little animal ears on his head.
Thursday:
Friday: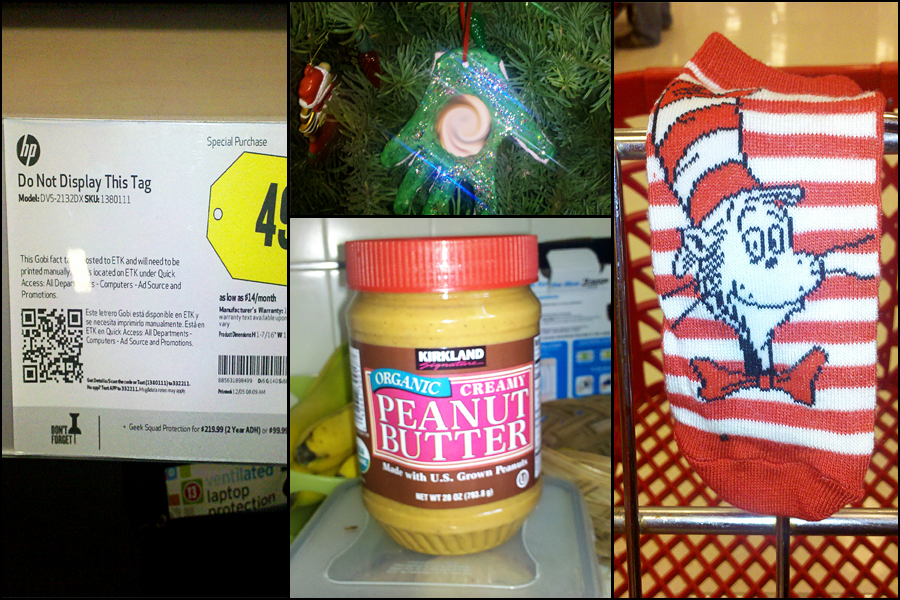 We went out to run errands, and I found the "do not display" tag on display at Best Buy. It caught my eye and made me laugh. I also bought REAL organic Peanut Butter from Costco, the kind you have to keep in the fridge and stir. Cost-wise it was just as much as the "Natural" Skippy I buy, but after Raven told me how they make Palm Oil I decided I needed to seek out other PB. Luckily this tastes REALLY good and the girls gobbled it up and the only ingredients are Dry Roasted Organic Peanuts and Salt. When we picked Olivia up from school she gave me the most beautiful ornament for our tree (her little picture is in the middle, not a big blob), and when I told her how beautiful it was and we would put it on the tree, she said "No, you're supposed to put it UNDER the tree". Oops, I opened it before Christmas. Oh well, now I can look at it for two weeks. Then I went to Target to get some shopping done while Bill stayed with the girls. I was looking for stocking stuffers, among other things. In the $1 bin I found socks! And I came across this ONE sock, and despite my efforts to find its mate, I couldn't uncover it, so I was so bummed, because I knew Miss Olivia would have LOVED them. Unfortunately this was the last lonely Cat in the Hat sock at our Target (that I could find, anyway).
Saturday: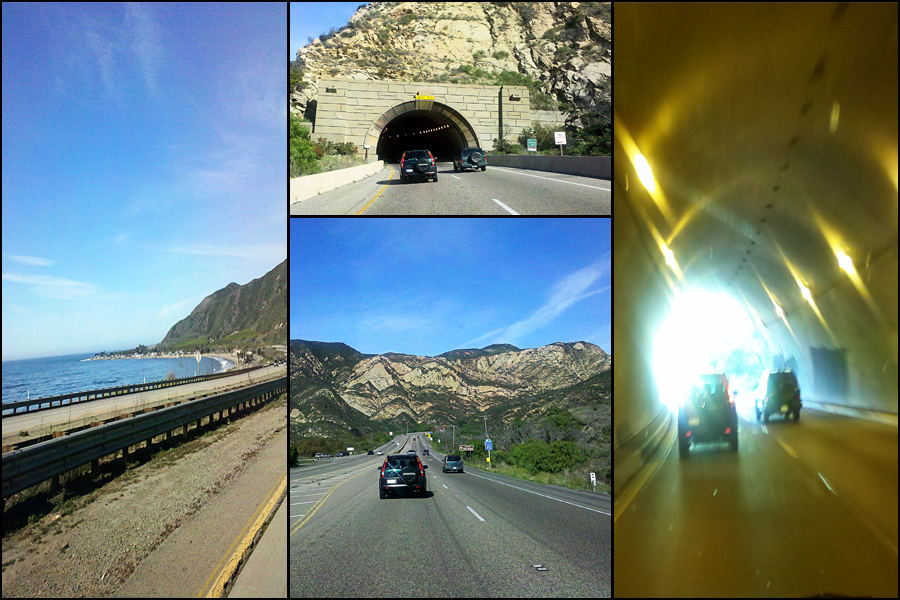 On Saturday, we drove up to visit Bill's grandparents and mom to celebrate Christmas and exchange gifts. Luckily we avoided any carsickness (thank you Dramamine!) and traffic was not bad at all, so we made it in under 3 hours. These are just some pictures along the way. By far, my favorite route to get to our destination. I love how the ocean is on one side and the mountains are on the other. The girls got a little weirded out because they thought we were going to drive into the mountains, but they LOVED the tunnel and kept asking to drive through it again.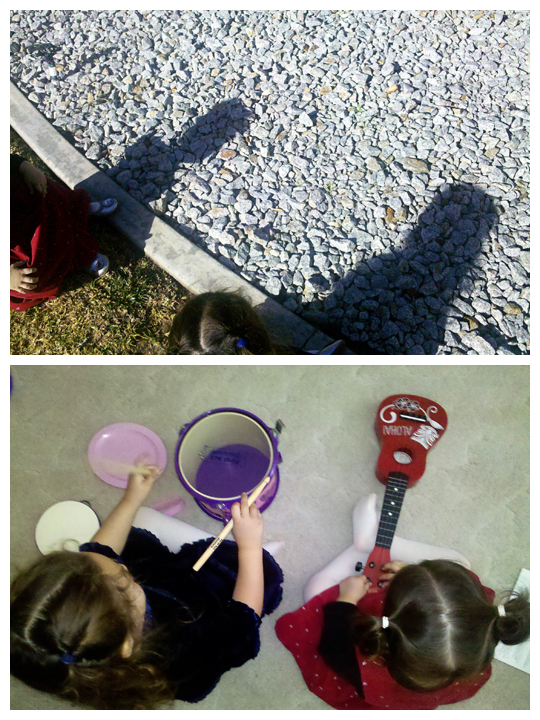 When we got there they requested to play outside, and it was a gorgeous day so of course they spent a good hour running around, while I spent that hour trying to keep them from throwing or walking on the rocks. Luckily their shadows entertained them for a few of those minutes of the hour. They opened their gifts right before our (early) dinner and I am now on my way to having a family band. They had a hard time pronouncing ukulele; Sophia called it an "unka-joey" (which just reminded me of Full House) and Olivia called it an "uncle leia".
So, that was MY week in Droid photos, how was yours? Linky up below! But grab the code from the awesome Amy's A Good Life Blog first to join the fun!
I get nothing for any amazon links…per usual.